Biography
Edit
She is a dear childhood friend, a love interest and the one who ruined Ganta Igarashi's life all at once. Shiro was cruelly experiemented on by Ganta's scientist mother, Sonrae and Hagire Rinichirō, who later adopts her as his daughter. She appears to Ganta as the Red man and murders his classmates and lets him get framed for it. Shiro is also the first Deadman.
Shiro's Feats
Edit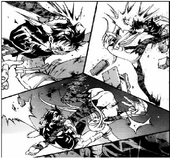 As the results of Hagire's and Sorae's experiments, Shiro's body has developed the ability to regenerate almost immediately. They have done tests by ripping off pieces of flesh from her body, even removing internal organs, but they keep regenerating. She is also capable of flight. She has a kick powerful enough  Necro Macro away to save Ganta. Shiro managed to protect Ganta Igarashi from the deadly Dog race. She defeated Hagire's old body with little effort. Her deadly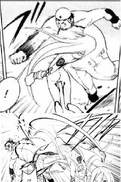 ability is her branch of sin, where she can cause absolute destruction. She used her branch of sin to flip a ship over it's head easily.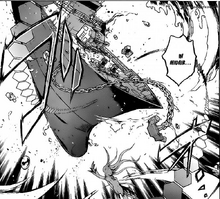 Shiro took a vicious Whip Wing to the face by Minatsuki Takami and shrugged it off. During the dog race, she saved Ganta from a knife being thrown at him by Kosugi and survived. When Ganta tried to assassinate Shiro using his branch of sin, she lives and heals from the attack in a short amount of time. Shiro is a enhanced abilities have helped her survive against all odds, including death. She is a long range fighter with strength, healing, and agility.